Seasons: A Visual and Vocal Journey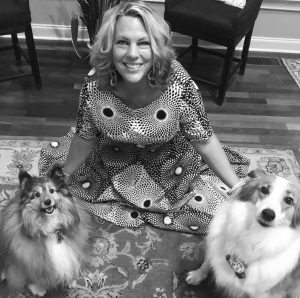 I am excited for several reasons this evening.  To begin with I am writing my first ever blog post, and I have much I want to share.  Plenty has taken place since my website went live during Piccolo Spoleto 2019.  I performed in two successful shows (Seasons: A Visual and Vocal Journey; and Sounds of the Holy City with Small Opera, Staff & Palette, and Mt. Zion AME) featuring my poetry, visual, and vocal art, alongside composer Arshak Sirunyan.  From there I graced the stage as the soloist for Mercer University School of Medicine Commencement 2019 singing Mozart.  I sang as the guest soloist for two recitals of noted voice instructor Sandra Barnhardt, who also happens to be my former teacher and dear friend.  I exhibited an original oil painting entitled "Respect" in MOJA, my first juried art show where I got to meet one of my idols, the iconic and internationally acclaimed artist Jonathan Green.  I formed and led an ethereal vocal group, Earth Angels (Mary Askins, Monica Hammonds, Jeanine Satterfield, and Tierra Thompson), who joined me on stage as I made my solo debut singing Aretha Franklin at the Gaillard for the televised Spot Light Awards 2019 hosted by Deborah Anderson.  Before the year ended, I returned to the diverse stage of Mt. Zion AME to once again sing as the Soprano Soloist for Handel's Messiah with the Charleston Symphony Orchestra alongside Maestros Yuriy Bekker, Alphonso Brown, Ken Lam, and David Richardson.  By my side all the way was my beautiful mentor, Dr. Jill Terhaar Lewis of Charleston Southern University, offering her support, encouragement, and instruction.  Thanks to her help I have continued to grow as a musician and soloist, winning awards and voice competitions as well as landing a role as the First Lady in New York Lyric Opera Company's performance of Die Zauberflote.
With the New Year, change is rapidly approaching.  My husband John has taken a new medical education position in Virginia, so Staff & Palette will be relocating to the Blacksburg area in February 2020.  Before we pack up however, I have one more opportunity to perform here in the Lowcountry with Arshak Sirunyan.  We have been invited to bring an encore presentation of "Seasons: A Visual and Vocal Journey" to the Third Sunday at Three Concert Series at St. Theresa the Little Flower Catholic Church in Summerville, SC on January 19th at 3pm.  This will be a multi-sensory program featuring our own jazz and classical vocal/piano arrangements, recently premiered piano solo jazz compositions, and newly unveiled original paintings and poems all to suit each season as our musical performance visually winds through snow covered vistas, flowers in bloom, sultry Spanish Moss, and falling leaves found in my seasonal paintings and poetry.  My original oils are inspired by actual seasonal photographs my husband and I have taken throughout the Lowcountry and are meant to pair with the poetic ideas in the vocal/piano selections.  They are further illuminated by my own original poetry which explores the connection of seasons of the year to those of life.  Original jazz compositions by Arshak Sirunyan, which world premiered during our Piccolo Spoleto 2019 show, find their inspiration from images found in my paintings and poetry bringing the program full circle.  With everything we put into this production, I am delighted that we get to do it again before my journey takes me north, with my husband John and Pups, Ariel and Eli, from the sea to the mountains.
Another first is happening.  I am releasing my first album, "Seasons: A Visual & Vocal Journey – Live from Piccolo Spoleto 2019", produced by Chris Viera.  Will it be absolutely perfect?  Of course not!  Its a live CD!  It's meant to be organic and full of the energy that can only be present live on stage.  Am I proud of it?  Most definitely.  It is quite the accomplishment for any soloist to release a CD, and this is especially true for one who has taken a non-traditional path to the stage.  The album,  featuring my classical, jazz, and blues vocals accompanied on piano by Arshak Sirunyan, will be available for purchase after the show this Sunday, January 19th, at St. Theresa the Little Flower.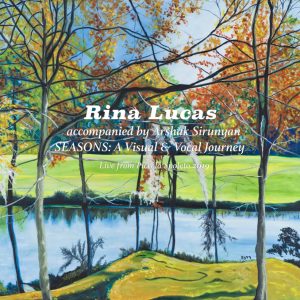 As so much transition is happening in my life, it is quite fitting that I would be preparing to present "Seasons: A Visual and Vocal Journey" again…and releasing my first album by the same title…and writing my first blog for that matter also of the same title.  Seasons are a part of life, and they sure do keep changing!  But isn't that what makes the ride exciting?  The most important thing to remember in the midst of the flux is not to be afraid.  In Hebrew we say "Lo Lefachad Clal" which literally means "fear not".  It is safe and healthy to grow and change in any and all seasons of our lives.  So let's embrace it shall we?
Before I exit my first blog, I want to share the original paintings and poetry from Piccolo Spoleto 2019 "Seasons: A Visual and Vocal Journey" with you.  Enjoy!  And if you are in the Charleston area, I hope to see you at the encore show at St. Theresa the Little Flower at 3 pm THIS Sunday, January 19th.
Seasons – by Rina Lucas
Seasons reflect our journey through the year
While at the same time illuminating our sojourn across the landscape of life
Time spins round and round rather than in a line
Reminding us to cherish each moment
As we pray for happy returns of frigid festivals, fragrant blooms, sultry summers, and foliage aflame
A balm of beauty surrounds us in each season
As childhood laughter inevitably gives way to wrinkles and a crown of grey
The cycle of life keeps turning
Just as this globe spins about the sun
No beginning
No end
Just Seasons…
Snowy Palmetto near Beresford Creek – Original Oil by Rina Lucas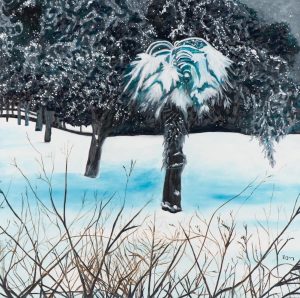 Winter – by Rina Lucas
During the darkest, coldest seasons of our lives
It can feel more like the end than the beginning
But in those times when we quietly stand waiting
Seemingly alone in our courage
Deep in the soul, and under the snow's surface,
Prolific growth is already occurring.
Wild Iris in bloom on the Palmetto Trail – Original Oil by Rina Lucas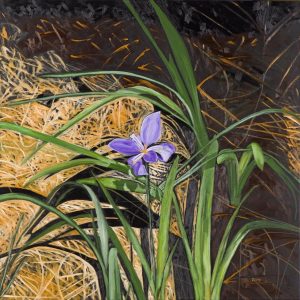 Spring – by Rina Lucas
What persistence and strength
Such energy and courage
Ah the exquisite vulnerability and faith
It takes
To Bloom.
Moss Covered Shade Trees along Wappoo Drive – Oil by Rina Lucas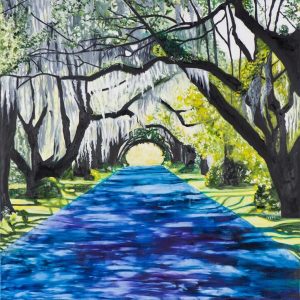 Summer – by Rina Lucas
The heat and light of this place feed us
At this very time we most closely greet the sun
While reminding us to also seek the solace of shade
To protect our tender leaves from summer's brilliant radiance
It is the dance of darkness and light
That allows our souls to thrive in any season.
Autumnal Foliage at the Charleston Tea Plantation – Oil by Rina Lucas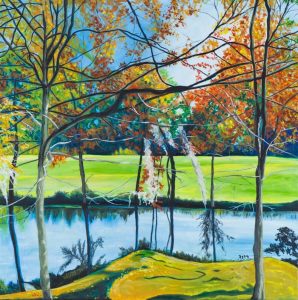 Autumn – by Rina Lucas
It is only after we have walked our paths
For many seasons
That our most magnificent beauty
Begins to emerge
We must allow our changing creases and colors
To no longer remain hidden
But to be displayed as masterpieces.