My Season in Charleston
As a gift to all the artists here in Charleston who have inspired me so much during my creative sojourn by the sea, I wanted to unveil a new painting and poem today, dedicated to each of you.  Your voices and instruments are literally brushed onto the canvas of this painting, because as many of you know, I listen to each of you while I work in my studio, and I know beyond any doubt that your artistic expression so generously has influenced mine.  Thank you all for embracing me into this rich, vibrant, and so very talented community.  I know I may dab at it here and there as it continues to dry, but the essence of what I wanted to capture I believe is on the canvas, so I have signed it, and want to go ahead and reveal it in time for my good friends in Ranky Tanky to see before they WIN their first Grammy for Best Regional Roots Album this afternoon.  Charlton Singleton, you are as kind as you are talented, and my prayers are with you all today!  May this small gesture of love and support from back home give you peace and strength as your dreams are finally realized.  And to all of my friends and colleagues in the arts community here in Charleston, from the bottom of my heart, I thank you and will never forget you.
Thank you for helping me bloom…
Much love and gratitude always,
Rina
My Season in Charleston – Original Oil by Rina Lucas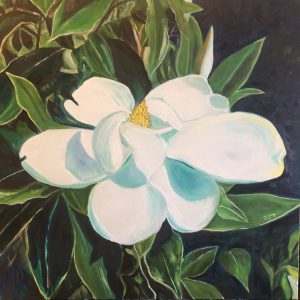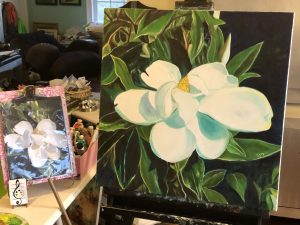 My Season in Charleston – Poem by Rina Lucas
In the warm, rich soil of Charleston 
You can grow 
But you must first allow yourself to be planted
And that can be painful
Seemingly alone in the dark
Saturated in all the history of this place
And not all of it good
Decaying bodies killed on the battlefield
Wrung out on plantations
As well as lynched in the streets 
All nourish this complex garden
And their voices cry out in sacred song
You can hear it as your seed begins to pop open
And you cannot help but put down roots
So you can soak in those haunting melodies
That permeate this paradise nearly lost
As your tiny stalk begins to lengthen
You reach desperately for the light you know is
Just beyond the surface of the soil
And as your vibrant green shoots burst forth
Into the world above
Singing
Your leaves and lungs gasp
To inhale the briny, humid air
Those songs are circulating all around you now
Wafting on the breeze
The prayers and poems of a great people
Are woven in the sweet grasses gathered 
From the marshes close to where you stand
They so generously give of their music
They invite you to sing along
Weeping and wailing from a time not long ago
Washes over you
But it has been transformed into  
Proud, jubilant songs of victory
Mourning turns into dancing in the velvety Voices 
Of the Lowcountry…
Nate leads them
Mrs. Sandy lifts them
Lowcountry Voices offer songs of old in a kaleidoscope of color
Bringing together brothers and sisters in every hue
On a world stage Ranky Tanky fights for a Freedom not yet won
Charlton like Gabriel blows his horn
Showing the way
While Quiana sings her truth from deep in her soul 
Marcus writes his 
And his poems powerfully persuade you to listen 
The Mayor's music matches the rhythm 
Quentin proudly plays
Quadre, Alvin, and Jonathan paint what has been
What is, and what will be
Arshak composes art that can be heard
While Rina brushes his songs onto her canvas
And sings along in harmony
Earth Angels are by her side
As John's love helps steady her
And Ariel and Eli stand guard
Dr. Jill gives voice to those who will learn
And covers her protégés with prayer
Singing over them with gladness
Teaching them to do the same
While Robert's saxophone serenades with The In-Between
And Rodney's pipes fill the sanctuary with sound
Katie's Opera is anything but Small
And Sam, the Soulful One, truly touches all
Deborah shines her Spot Light on Mother Emmanuel
As her dancers dance and her chanters chant
Their musical prayers reach Heaven
Rabbi whispers "Kadosh, Kadosh, Kadosh"
The AME Choir sings high
On Mt. Zion
Dr. Kylon preaches Peace…
Be still
Alphonso caresses the keys
While also lifting his voice,
His hands, and his heart
And the Symphony accompanies him 
Ken and Yuriy and David help conduct this song 
We all hear
While living and learning and growing
Here in Charleston 
It's a tune tied to triumph over tedious toil
That began with division, hate, and injustice
But is being resolved
Person by person
Heart by heart
Spirit by spirit
Into a unified, fully resonate chord
This song
Steeped in centuries 
Swirls around me 
As my branches reach 
Ever upward towards the sun
My leaves and flowers have unfurled
During this season in Charleston
Into a familiar fragrance
I will never forget.