Seasons: From Sea to Summit – June, 18th 2022 – 5pm-7pm
Seasons: From Sea to Summit – Rina Lucas and Arshak Sirunyan – The Floyd Center for the Arts – Tickets $25 Advance/ $30 Door/ $15 Students – Multimedia Performance in Community Hall followed by Opening Reception for Visual Arts Exhibit in the Falcon Gallery.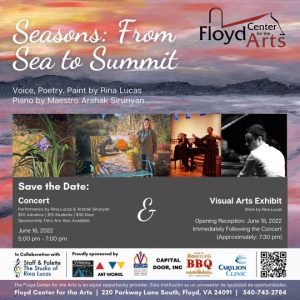 Seasons: From Sea to Summit
Live Multimedia Concert 5-7 pm
Exhibition Opening Reception 7:30 pm
Rina Lucas of Staff & Palette is delighted to bring her vibrant visual arts exhibit of original oil paintings and poetry to the Falcon Gallery and honored to make her live performance debut on the Community Hall Stage at The Floyd Center for the Arts  on June 18th, 2022 at 5pm alongside composer and pianist Maestro Arshak Sirunyan with her dynamic multimedia production, "Seasons: From Sea to Summit". The audience will be immersed in this feast for the senses as the artists' musical performance winds its way through the seasons of the year and of life via images found in Rina's paintings and poetry. Using a metaphor traveling from the ocean to the mountains, together Rina and Arshak will tell the story of going up as we go through each season. With a vocal performance spanning the globe and multiple genres set to incandescent piano accompaniment including original arrangements, this program is meant to pair with and further illuminate Rina's visual art exhibit in the Falcon Gallery creating a truly one of a kind experience for concert goers. Arshak's own piano compositions inspired by Rina's work in poetry and paint bring each act to a climactic close in this cyclical journey. Rina is a poet, visual artist, and classically trained Soprano whose profession in the arts began later in life after her career as a Physical Therapist ended due to a serious spinal injury. This is why the concept of rising from one's circumstances through each season is so important to her. She received her Bachelor of Science from James Madison University and her Master of Physical Therapy from Gannon University. Since that time, she has studied with important mentors in the arts to excel in her gifts. As a result she has won awards and received accolades from judges in state, national, and international competitions for voice, and has been featured in juried visual arts shows and global publications including Artistonish Magazine. Known for her powerful instrument and effortless range, she is sought after as a soloist. She was delighted to perform with the Charleston Symphony Orchestra as the Soprano soloist for Handel's Messiah for two seasons at historic Mt. Zion AME Church in downtown Charleston SC. She also produced and performed in her own original multimedia Piccolo Spoleto 2019 show, "Seasons: A Visual and Vocal Journey". Rina is proud to bring her colleague, Charleston based prolific award winning multi-genre composer and pianist Arshak Sirunyan, literally from the sea to the summit, to perform alongside her in this unique show that combines Rina's paint, poetry, and voice with his incomparable artistry. Both the stage and the gallery will be alive with sights, sounds, and sensations during the June 18th, 2022 premiere of "Seasons: From Sea to Summit" that will leave the audience connecting to their own personal journey of rising. As Rina's artistic path has brought her back to the mountains in Floyd County, Virginia, the land of her grandmother's people, after a sojourn along the sea in South Carolina's Lowcountry, her connection to seasons has truly come full circle. After the performance, guests will be invited to join the artists for a reception to celebrate "Seasons: From Sea to Summit", both the multimedia concert and the visual arts show which will be on exhibit in the Falcon Gallery from June 11th through August 6th, 2022.
"On a personal note, Staff & Palette is deeply grateful to our generous sponsors! We could not have done all of this without you! THANK YOU for supporting the arts and artists here in SW Virginia!!!
Virginia Commission for the Arts
Art Works
Many thanks to the exquisitely talented Office and Technology Manager Mr. Brandon Phillips for creating these beautiful posters for both the multimedia concert and exhibit, "Seasons: From Sea to Summit"! We are also so grateful to the brilliant Director of Programming Ms. Victoria Javier for all of her assistance as we have pulled this show together. The Floyd Center for the Arts is so fortunate to have these wonderful artists and community leaders on staff! Most of all I want to thank my beloved husband and most devoted fan, Dr. John Lucas, for all of his support and tireless efforts on my behalf to make all of this possible. His work behind the scenes has truly made all the difference."
Hope to see you at the show!
Rina Lucas, Staff & Palette