May 4, 2019, 2pm
Guest Soprano Soloist for Mercer University School of Medicine Graduation Ceremony
May 28, 2019, 7pm
Piccolo Spoleto Guest Soprano Soloist and Visual Artist for Katie Small's "Sounds of the Holy City" at Mt. Zion AME Church. $15

June 7, 2019, 7pm
"Seasons: A Visual and Vocal Journey," an official Piccolo Spoleto event at Providence Baptist Church on Daniel Island.
GET FREE TICKETS HERE.
Soprano and visual artist Rina Lucas and pianist and composer Arshak Sirunyan make their debut with a multi-sensory program featuring jazz and classical vocal and piano arrangements with original jazz compositions as the artists' musical performance pairs with images found in Rina's seasonal paintings and poetry.

June 22, 2019, 5pm
Guest Soprano Soloist for Mrs. Sandra Barnhardt's Spring Voice Recital – Mt. Zion AME
September 30th, 2019, 6:00 pm
Staff & Palette is delighted to announce that "Respect", a framed 16 x 20 original oil grisaille on canvas by Rina Lucas has been selected for inclusion in the MOJA Arts Festival 2019 Juried Art Exhibition which will run from September 26th through October 6th at the Cannon Street Arts Center in downtown Charleston, SC. Artists from North Carolina, South Carolina, Georgia, and Florida entered their work for consideration in this prestigious multidisciplinary event celebrating African American and Caribbean culture.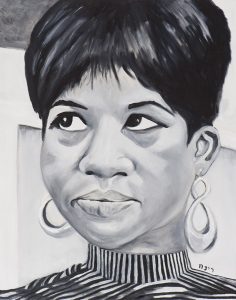 MOJA Juried Art Exhibition 2019
Please join us for a festive reception with the artists at the Cannon Street Arts Center on Monday, September 30th from 6 to 8 pm.
November 16th, 2019, 7:30 pm
Soprano Rina Lucas, of Staff & Palette, along with her brilliant accompanist Arshak Sirunyan on piano, as well as talented background artists:  Mary Askins, Monica Hammonds, Jeanine Satterfield, and Tierra Thompson, are delighted to be performing for the 2019 Spot Light Awards, a televised, black tie affair to recognize local heroes while honoring the Emanuel Nine, held in the Ballroom of the Gaillard Center in Charleston, SC.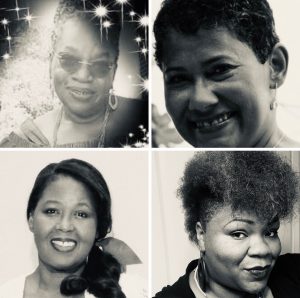 Tickets may be purchased at the following link:
Purchase Tickets for The Spot Light Awards 2019 Here!
December 13th, 2019, 7:30 pm
Soprano Rina Lucas is delighted to be returning to the diverse Mt. Zion AME stage under the direction of Maestros David Richardson, Alphonso Brown, and Ken Lam as the Soprano Soloist for the Christmas portion of Handel's Messiah with The Charleston Symphony Orchestra on Friday, December 13th at 7:30pm, at historic Mt. Zion Ame Church in Downtown Charleston.
RSVP Here For Charleston Symphony Orchestra and Mt. Zion AME Community Concert! Free Admission!
December 20th, 2019, 7:00 pm
Please join Soprano Rina Lucas as she graces the Mt. Zion AME stage for one more time in 2019 as the guest soloist for SINGING THE JOY OF CHRISTMAS, the annual Christmas Recital of noted voice instructor, Sandra Barnhardt, Rina's former teacher, dear friend, and mentor. Accompanying her will be the incomparable Arshak Sirunyan, and Earth Angels (Mary Askins, Monica Hammonds, Jeanine Satterfield, and Tierra Thompson) have even agreed to make a special appearance by her side.  As is her custom, she will be sharing diverse genres in her repertoire ranging from Handel to Spirituals to Aretha Franklin.  It is Rina's hope that you can be with her for this special event.  Tickets may be purchased at the door $5 per person.

January 19th, 2020, 3:00 pm
Soprano soloist, visual artist, and poet Rina Lucas of Staff & Palette and composer, piano soloist, and accompanist Arshak Sirunyan bring an encore performance of "Seasons: A Visual and Vocal Journey", which debuted during Piccolo Spoleto 2019, to the Third Sunday at Three Concert Series at St. Theresa the Little Flower Catholic Church in Summerville, SC, leading the audience through a multi-sensory program featuring jazz and classical vocal/piano arrangements, recently premiered piano solo jazz compositions, and newly unveiled original oil paintings and poems all to suit each season as the artists' musical performance visually winds through snow covered vistas, flowers in bloom, sultry Spanish Moss, and falling leaves found in Rina's seasonal paintings and poetry.
No ticket required.  Admission is free.  Donations will be graciously accepted.  Suggested amount $20.
Rina is also proud to be releasing her first album "Seasons: A Vocal & Visual Journey – Live from Piccolo Spoleto 2019" produced by Chris Viera, in time for this special event!  It will be available for purchase after the show.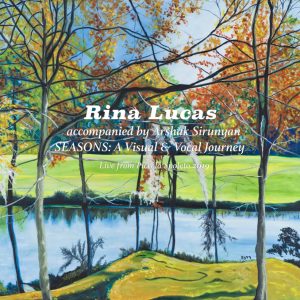 This will be the last opportunity for some time to see these artists collaborate together in the Lowcountry as Rina and her husband John are relocating to Virginia in February 2020.  Please come out and allow her to thank you for all of your gracious support during her sojourn as an artist here in Charleston, SC.  Staff & Palette will reopen in the Blacksburg, VA area in the coming year.
October 17th-December 3rd 2020
Staff & Palette has reopened our doors high atop the Blue Ridge, and we are proud to announce that "Mr. Elijah's Masterpiece", Rina's 20 x 16 original oil on canvas has been accepted into The Floyd Center for the Arts 2020 Juried Exhibition, "Art Appalachia: 2020", which will run from October 17th to December 3rd.  Selected from artists encompassing 13 states from Mississippi to New York by juror Wendy Earle, Curator of Contemporary Art at the Southeastern Center for Contemporary Art in Winston-Salem, NC, it is truly an honor to be part of this prestigious show. Rina is especially pleased that this piece, inspired by the work of our dear friend and master sweetgrass artist, Mr. Elijah Ford, was awarded this opportunity.
Programming is supported in part by the Virginia Commission for the Arts and the National Endowment for the Arts.
Due to Covid-19, we will not be able to participate in the reception initially planned for the artists; however there will be virtual opportunities to view the show and hear from the juror about each piece of artwork selected for the show.  There may also be provisions made for small groups to view the artwork on site.  We will keep everyone in the loop, so please stay tuned for updates!
Art Appalachia:2020 – Floyd Center for the Arts 2020 Juried Exhibit
https://www.floydartcenter.org/art-app
https://roanoke.com/lifestyles/community-floyd-center-issues-call-for-art-appalachia-2020-exhibit/article_f8f5ffbe-a25f-5d9f-bfba-6041ac380820.html
Here is Rina's poem to accompany the piece:
"Mr. Elijah's Masterpiece" – Poem by Rina Lucas
He stands
Greeting us with a warm smile
That has welcomed us for years
To his basket stand
The gem of Highway 17
Showcasing the talents
Handed down to him from his mother
And a thousand generations before her
All around us
Sparkling in the Charleston sun
Are his masterpieces
Fragrant as the morning dew
The poetry and pain
Of a great people
Sewn together in prayer
If ever a man looked like God to me
It's Mr. Elijah
Gentleness and strength
Humility and greatness
Swirled together like his artwork
With serene confidence
His kind eyes have seen so much
Joy and grief
For more than 80 years
His skilled hands have been
Working the Sweetgrass
Translating torment and toil
Into a glorious triumph
Ashes into Beauty
Mourning into Dancing.
.