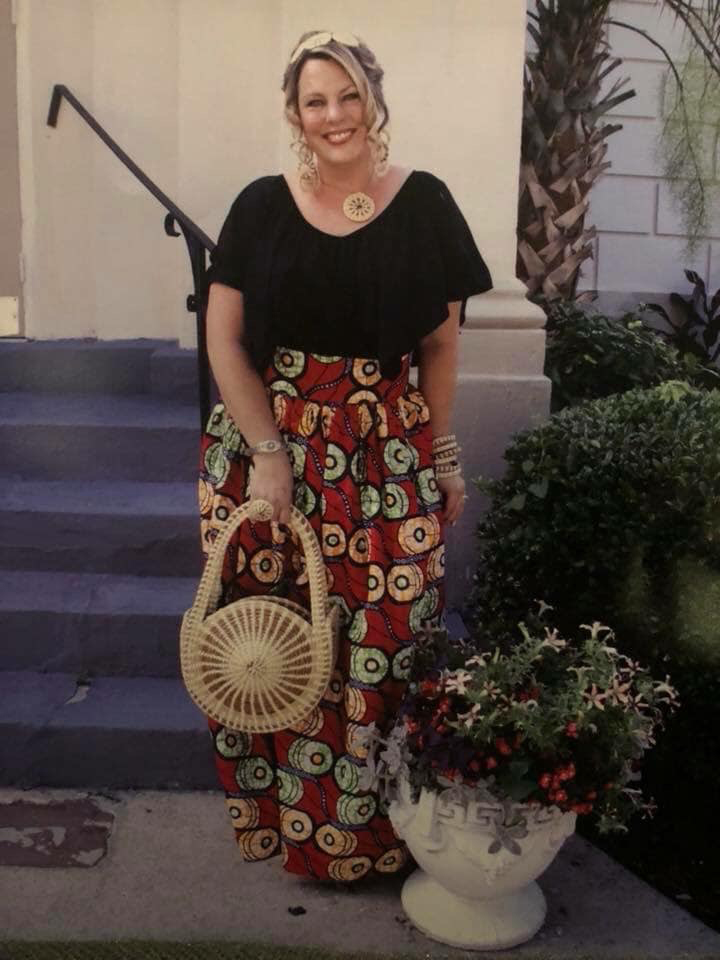 Soprano Rina Lucas is known for her powerful instrument, effortless range, and musical versatility. Comfortable in multiple genres, Rina is sought after as a soloist for weddings, recitals, concerts, and other special occasions. She was the featured artist in voice, poetry, and paint for her own Piccolo Spoleto 2019 world premier show in Charleston, SC, "Seasons: A Visual and Vocal Journey" alongside composer and pianist Arshak Sirunyan, and they continued to dazzle audiences throughout the Lowcountry with encores of this multimedia performance. She was also a co-presenter, soloist, and visual artist for another Piccolo Spoleto 2019 production, "Sounds of the Holy City with Small Opera, Staff & Palette, and Mt. Zion AME". She was delighted to make her debut with the Charleston Symphony Orchestra as the soprano soloist for the Christmas portion of Handel's Messiah in December 2018 at Mt. Zion AME, and returned to this diverse stage in 2019 to once again "rejoice greatly" under the direction of Maestros David Richardson, Alphonso Brown, Yuriy Bekker, and Ken Lam. She has also performed with the Charleston United Choir for the televised Spotlight Awards held at the Gaillard Center in November 2018, and she was invited back as the lead soloist with background vocals by Earth Angels accompanied by Arshak Sirunyan for this same black tie event in November 2019 which recognizes South Carolina heroes while honoring the Emanuel Nine. She drew acclaim for her Charleston solo recital debut featuring her original oil paintings, poetry, and multi-genre repertoire including her own arrangements at historic Mt. Zion AME Church in June 2018. She has been a proud member of the Lowcountry Voices Mass Choir based in N. Charleston as well as the separately auditioned Concert Choir and has been featured as a regular soprano soloist for special events for Black History Month, as well as for numerous other concerts. She has also performed chorally alongside her LCV colleagues, outside of their regular busy concert schedule, with the Charleston Symphony Orchestra for the Sunset Serenade Concert to kick off Piccolo Spoleto 2018, with the N. Charleston Symphony Orchestra Pops in "Broadway Rocks" and "The Legend of Zelda", and has traveled with the Choir on tour to Toronto, Canada. In addition, she has sung chorally as a first soprano with the Roanoke Symphony Orchestra Chorus. Rina, whose name in Hebrew means "Joyfully Singing", has over twenty years of experience singing with multiple church choirs including ensembles, worship teams, and solo work. Because of her Jewish heritage, she also has served in a Cantorial role singing prayers in Hebrew. She has performed multiple solos at various historic sites while traveling in Israel.
Rina's path to the profession has been nontraditional, having turned to the arts full time in 2012 after a career as a Physical Therapist. She received her Bachelor of Science from James Madison University and her Master of Physical Therapy from Gannon University. Since that time, Rina has developed her musical gifts with several excellent mentors including Patricia Clevenger, Professor of Voice at Roanoke College,  Sandra Barnhardt of Lift Up Your Voice Studio in Charleston, SC, and Dr. Jill Terhaar Lewis of Charleston Southern University.
Rina has performed for multiple National Association of Teachers of Singing (NATS) Master Classes as well as a SCNATS State Student Auditions in Spartanburg where she won first place and a Certificate of Distinction in her category (Contemporary Commercial Music).  After receiving accolades from judges and reaching the final rounds of multiple voice competitions including Medici International Music Competition, CS Music, and New York Lyric Opera Company, she has been spotlighted in a national publication, CS Music Magazine, for her unique emergence into a fascinating new career.
Read about Rina, "An Artist in Voice and Paint" in CS Music Magazine here!
She was awarded Honorary Mention in the Medici International Music Competition 2021 for classical voice, was a finalist in the CS Music Fall Online Voice Competition 2021 for classical voice, and a semifinalist in the Music International Grand Prix 2022 for both classical and popular voice.
Staff & Palette is proud to bring the artistry of Rina Lucas – Voice, Poetry, Paint, and Maestro Arshak Sirunyan – Piano, to the Community Hall at The Floyd Center for the Arts on June 18th, 2022 from 5pm – 7pm in their latest original multimedia performance of "Seasons: From Sea to Summit" which explores rising through the seasons of the year and of life. After the concert please enjoy an opening reception with the artists to celebrate Rina's Visual Art Exhibit of the same title in the Falcon Gallery. Tickets $25 Advance/ $30 Door/ $15 Students.
Purchase Tickets here:
Many thanks to our wonderful sponsors for their generous support:
Virginia Commission for the Arts
Art Works
During the global pandemic, Rina continued to create and perform virtually with her original multimedia show "Farewell Ode to Winter – A Virtual Performance" filmed by Jacob Dillenger of MNF Productions featuring virtual piano by Maestro Arshak Sirunyan.
Premiering on Saturday, July 31st, at 7 pm across social media channels is Rina's latest virtual creation in voice, poetry, and paint, "Virtually Yours – Spring's Serenade for Summer" filmed at the Moss Arts Center  in Blacksburg, VA by Jacob Dellinger, Neil Fox, and Cole Barrett of MNF Productions and featuring once again the virtual piano genius of Arshak Sirunyan.
In addition to her accomplishments as a vocalist, Rina is also a gifted visual artist working primarily in oils. Her oil painting "Seasonal Serendipity" accompanied by poetry was invited into the 16th New River Art Biennial Juried Exhibition 2021  held at the Tyler Gallery at Radford University from October 23rd to December 4th, 2021. Her work including three paintings: "Becoming" which was also published in a global periodical Artistonish Contemporary Art Magazine – August 2021 Issue, "Holly's Pumpkin", and "Christmas at Khori's Beach", each accompanied by poetry was featured in the 18th Annual New Work Exhibit 2021 at The Floyd Center for the Arts from October 9th to November 30th, 2021. Her oil painting "Side by Side Swagger" accompanied by poetry was invited for exhibition in an international online juried show Pets 2021 through Exhibizone. She exhibited and won both the Judge's Choice Award and People's Choice Award for her original oil with accompanying poem "Wild Iris in bloom on the Palmetto Trail" August – October 2021 at The Floyd Center for the Arts in a National Juried Exhibition 2021 juried by internationally acclaimed watercolorist Z.L. Feng. Her original oil series "Plum Perfect" including three paintings #1 – A Welcome Visitor, #2 – Center of Attention, and #3 – The Buzz around Town was invited for the 2021 Exhibition The Gift of Art – 26 Years an Art Center  at The Floyd Center for the Arts. She exhibited her original oil "Mr. Elijah's Masterpiece", which was recently published internationally in Artistonish – Contemporary Art Magazine – May 2021, at The Floyd Center for the Arts in Art Appalachia 2020 juried by Wendy Earle, Curator of Contemporary Arts at the Southeastern Center for Contemporary Arts in Winston-Salem, NC. She was included as a featured artist in MOJA 2019 Juried Art Exhibition , juried by Alvin Glen and attended by internationally acclaimed artist Jonathan Green, with her original oil grisaille portrait of Aretha Franklin entitled "Respect". She made her first appearance with Piccolo Spoleto as both a vocal and visual artist as well as a poet for two productions in May/June 2019 debuting her solo show "Seasons: A Visual and Vocal Journey" with composer and pianist Arshak Sirunyan.
She also was a featured soloist and exhibited original artwork created especially for "Sounds of the Holy City with Small Opera, Staff & Palette, and Mt. Zion AME".
Largely self taught, Rina has been painting since her youth. Over 30 years later, she continues to use her very first Palette Knife given to her by her parents when they arranged for her to take a Bob Ross oil painting class at a local art store near her childhood home in Roanoke, Va. All along her artistic journey, she has had some important mentors including her own Uncle James Fleshman, Michael Farrar, Terry Lyon, Anne Way Bernard, Alvin Glen, Jonathan Green, and Z.L. Feng. Rina is available for commissioned work, sells her artwork online and from her home studio, and she has partnered with animal charities, such as the Franklin County Humane Society, Smiles Forever Animal Rescue, and the Charleston Animal Society, helping pups in need find loving homes through her "Painted Pooch Project". In fact, she frequently uses her artwork as a way to advocate for worthy causes close to her heart, such as the American Heart Association, The Arc, the Juvenile Diabetes Research Fund, the Leukemia & Lymphoma Society, and Lowcountry Voices. Rina painted an oil portrait of iconic African-American Composer, Dr. Roland Carter entitled "Lifter of Voices", as part of the celebration for his 75th birthday in May of 2017. Though her paintings vary in subject matter and style, her passion for building cultural bridges and deep desire for racial reconciliation are important themes depicted in her work. As a nod to her Semitic roots, she signs all of her original artwork in Hebrew.
Accompanying each of her paintings is a poem, and plans are in the works to publish a book including images of her artwork and the poetic interpretations brushed onto the canvas. She has been writing poetry since her youth, but she has been inspired by mentoring and encouragement from Poet Laureate of Charleston, SC, Marcus Amaker.
She owns Staff & Palette, her studio for vocal and visual art in Floyd County, VA where she recently relocated from Charleston, SC with her devoted husband, John and their beloved pups, Ariel and Eli. In their spare time, they love to go camping, hike, comb the beach for sand dollars, and grow Pap Lucas's heirloom tomatoes.